SCIENTIFICALLY PROVEN EFFECTIVENESS
Scientific studies show a significant improvement in everyday functionality and resilience for the therapeutic methodology VBC.
Set off now with
the My7steps app
Our short-term therapy addresses you individually with your experiences and values. The My7steps App supports and encourages you step by step to find the right way out of depression for you: through a better understanding of your situation and the right initiatives for you to get better.
With My7steps App, you will be guided through 7 steps to help you better understand your situation. You will be encouraged to take the initiatives that are right for you to overcome your depression.
My7steps app is available in 6 languages:
English, French, German, Turkish, Arabic and Dari/Farsi.
You are right with us at
mild to moderate depressed mood
accompanied by depressing thoughts and feelings
Loss of drive, joy and interest
My7steps is designed to overcome individual challenges well and quickly: To overcome depression, to bridge the wait for a long-term therapy place, as an accompanying or even preventive psychological measure.
My7steps is not suitable for
an acute emergency
a diagnosed severe mental illness
serious suicidal intent
Help in emergencies
If you or someone close to you
needs urgent help, please contact the following point of contact:
www.telefonseelsorge.de or Tel: 0800 111 0 111
Medical psychiatric on-call service: Tel: 116 117 or go to the emergency room of a clinic.
We accompany you interactively on every stage.
You can read your treatment progress at any time from your satisfaction curve.
You will be accompanied by a professional counselor:in the background on your very personal path.
YOUR STEPS
My7steps app guides you through seven steps. Each step is explained in the form of movies and audio recordings. You are asked to classify or write down situations and are given tasks and exercises to work on. My7steps App reacts interactively to your individual answers and varies further content accordingly.
Individual sessions with the personal counselor can be booked at any time.
How to obtain our short-term therapy free of charge on prescription
My7steps App is paid for by all statutory health insurance companies and is therefore available to you free of charge.
1
You need a medical certificate or prescription
2
You submit the certificate or prescription to the health insurance company and receive an activation code
3
Launch My7steps app with unlock code
You already have an activation code from your health insurance?
CLIENT TESTIMONIALS
"Being able to see things from a different perspective has led me to a different life."

"I could never believe how changing little things affects the big things in my life."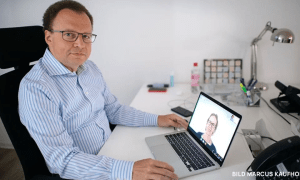 Frankfurter Allgemeine Zeitung
"No matter how strong and intelligent you are, sometimes you just need someone to be there and help you know yourself better."
Scientific studies significantly prove:
Reduction of the depressive symptomatology
Resilience improvement
Improvement of everyday functionality
Most frequent questions